This story was produced by CBC q, a We Are Not Divided collaborator
Simone Saunders and Tekikki Walker have never met each other in person. But the two artists found much in common with each other when they connected as part of a long-distance collaboration.
Their project is part of the Long Distance Art series, an initiative that connects different artists online, kind of like a matchmaking service for creators.
"Tekikki's work was just mesmerizing to me: the Black content, the color palette, the vibrancy of her work," Saunders, who is based in Calgary, tells q host Tom Power.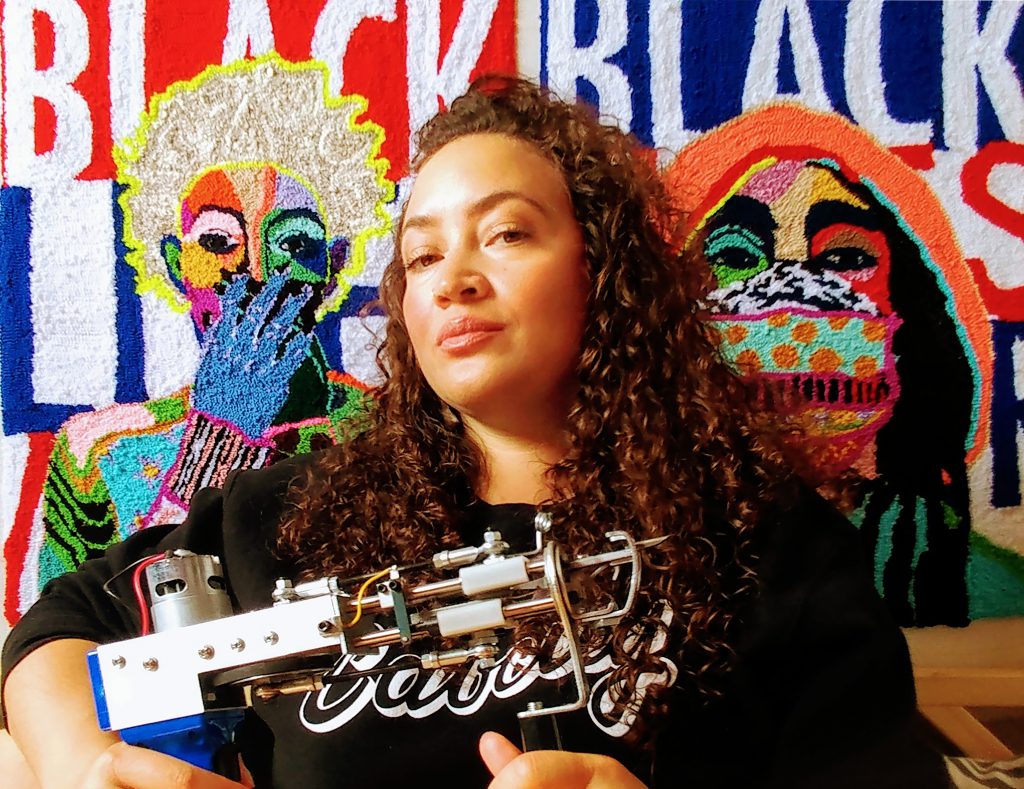 For Walker, who lives more than 3,200 kilometers (2,000 miles) away in Cleveland, the professional admiration was mutual.
"I love her work pretty much for the same reasons — a lot of the content and the vibrancy," she says. "She just seemed like a really dope artist. And I was like, I'm so excited. I want to work with her."
Saunders and Walker were put in touch with each other by Torontonian Nick Green, creator of the Social Distancing Series that spawned the Long Distance Art Series.
The series connects artists from a variety of media and artistic disciplines from around the world as a way to build bridges between artists and art-lovers as the Covid-19 pandemic makes in-person meetings difficult to impossible.
Saunders and Walker's project, titled This Ain't No Video Game, We Want Outta This Circus, explores the parallels between the Black experience, especially anti-Black racism, on both sides of the American-Canadian border.
Both artists submitted a series of images in their preferred medium — digital collages from Walker, and textile "rug tufting" from Saunders.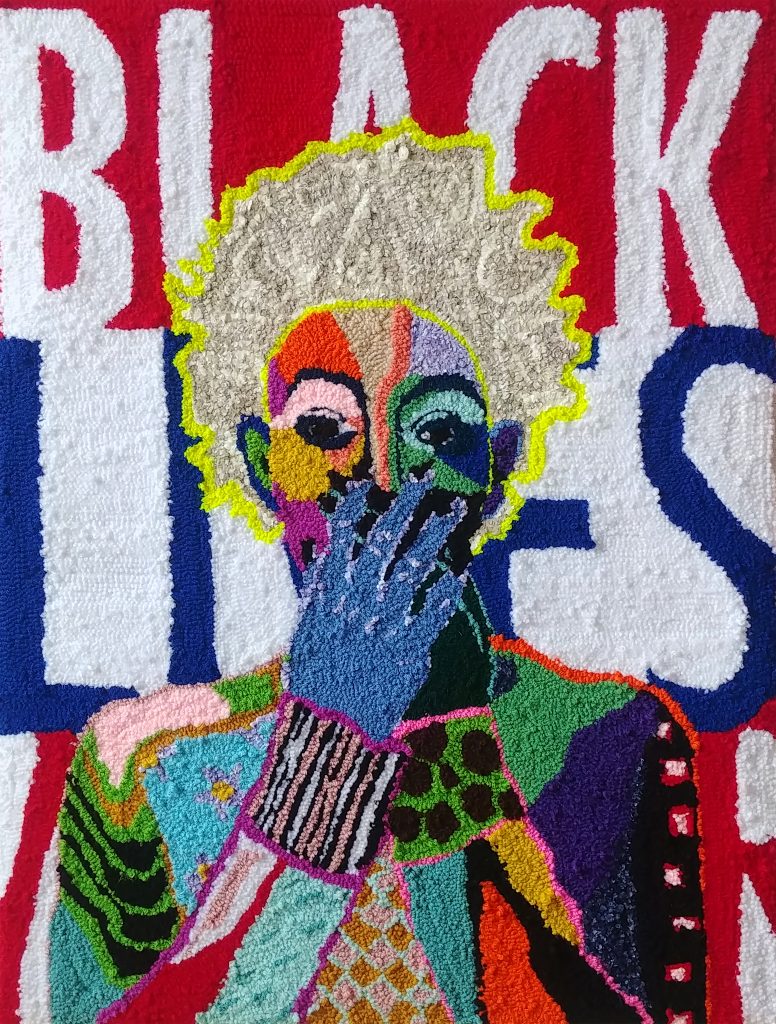 The project also includes personal essays from both that compare and contrast their experiences with systemic racism and the unique ways that racism has manifested during the pandemic.
Saunders says they drew inspiration from a Washington Post story in April that described two Black men who were followed by police through a Walmart for wearing protective face masks.
They were particularly struck by Kip Diggs, a 53-year-old Nashville marketing consultant who chose to wear cloth masks in bright, pastel colors like Carolina blue and lime green to appear less intimidating to passersby, including police.
"It says a lot for someone like Diggs, a marketing consultant, to think about the ramifications that stems from stereotyping and how one's appearance or wardrobe could warrant danger in the face of another crisis," Walker wrote in her essay.
The story highlighted the fact that some societal schisms have been widened by the pandemic, rather than uniting them.
"We started talking about the pandemic itself … especially in terms of marginalized communities and how they were not receiving the equitable care that was deserving of them," says Saunders.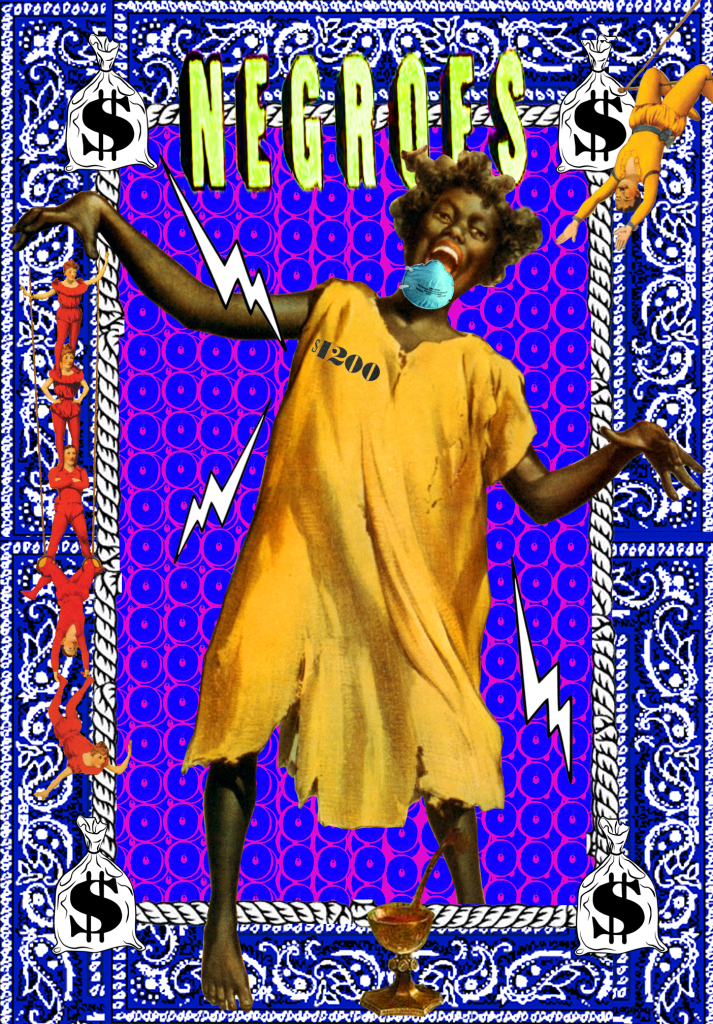 Canada doesn't have any plans to collect nationwide race-based data on the pandemic. But some cities, including Toronto and Montreal, have found that reported Covid-19 cases were more frequently found in neighborhoods with diverse racial backgrounds and lower incomes.
"Unfortunately, [Covid-19] has had a greater impact on those in our community who face greater health inequities," Toronto's medical officer Eileen de Villa said in July.
Saunders and Walker began working together in the early days of the pandemic. But soon after, the death of George Floyd in Minneapolis — and the ensuing resurgence of the Black Lives Matter protests — put these considerations into even sharper focus.
"Excuse my language — I'm frankly pissed about everything," says Walker.
She said she uses contemporary and historical imagery in her digital collages to signal the importance of history and historical context in our current dialogues about systemic racism.
"I want to keep talking about those issues … layering with things that may have happened with Black folks in America and in past times," she says.
In her essay, Saunders acknowledges that the Black experience in Canada isn't exactly the same as her peers' in the U.S., such as Walker.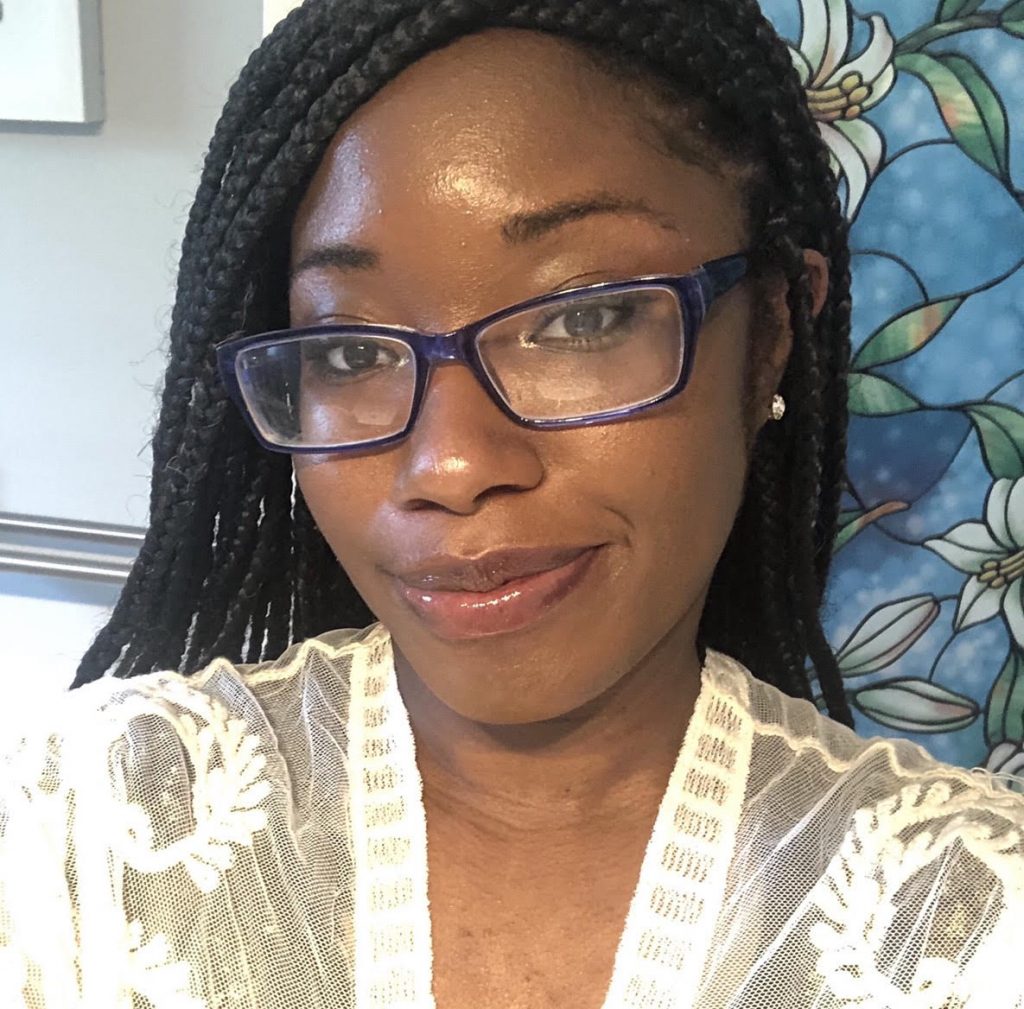 She's thankful for her relative economic privilege and access to health care during the pandemic, and put a spotlight on racism that Indigenous and other communities suffer.
Despite these differences, however, they found their causes had more in common with each other, and could strengthen each others' voices by speaking as one through this project.
"I think that was the most poignant thing, was that two Black women were able to connect over this line in the sand … across borders and really talk about a Black history and what was meaningful to both of us," says Saunders.
Despite the remote nature of the work and the difficult, personal subject matter, Saunders and Walker consider their contribution to the Long Distance Art Series a success — and, hopefully, the prelude to more collaborations.
"I really do hope that Tekikki and I can stay connected and to keep that sisterhood, because we really are here for one another, even within these two different countries," says Saunders.
Digital lead producers: Tahiat Mahboob, Ruby Buiza | Copy editor: Brandie Weikle | Web development: Geoff Isaac | Video producer: Andrew Alba | Radio producer: Vanessa Greco | Executive producers: Ann MacKeigan, Paul Gorbould