In early 2019, I quit my job to begin a journey across the country. My goal was to have vulnerable and human conversations with people whose perspectives were different from my own. I met these people at Trump rallies and farms, in rural Appalachian towns and Midwestern cities. As a queer, Asian-American who was born in Hawaii but now lives in the San Francisco Bay Area, my hope was simple: to forge connections and bridge divides. 
The trip was supposed to continue until this year's elections, but it was cut short by the Covid-19 pandemic — yet another circumstance, it turned out, that would further divide our country.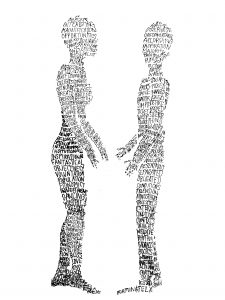 I did make it to Minnesota, however, where I met the team behind a podcast called On Being, hosted by Krista Tippett. They were engaged in a divide-bridging effort of their own called the Civil Conversations Project. We decided to collaborate on a short film that tackles a topic I care deeply about: bridging the LGBTQ+ and faith divide. 
As someone who identifies as both queer and spiritual, I wanted to bring together LGBTQ+ people with people of faith (or both!) for a series of open and honest conversations. 
The video shares just a few of those magical moments. The most interesting part of my work involved preparing participants, since some of them were skeptical or nervous about connecting across differences. We also had to create the conditions where all participants had shared power to both talk and listen during the conversation. Just to note: this video was filmed before the pandemic, which is why you won't see people wearing masks or practicing social distancing.
My involvement with We Are Not Divided is a continuation of this work. Starting on Monday, I'll be hosting a five-day video series right here called "Bridging Divides." In it, I'll interview people from all walks of life — an evangelical Christian and a gay rights activist, a Millenial and a Benectine nun — who are finding ways to come together, despite their different life experiences. I hope you'll enjoy those conversations as much as I did.